The best running shoes Autumn/Winter 2020
As the autumn leaves fall and footpaths become loose and boggy underfoot I decided to sign up to a 135 km train run from Gretna Green to North shields following the Legendary Hadrian's wall on the Scotland, England border once partoled by the romans themselves. As the conditions are going to be unfavorable under foot I have made a list and comparisons of the 5 best off road, winter, trail running shoes to make sure I make the distance with ankles knees and feet intact. And maybe in some comfort all the way to the finish.

Performance 

Comfort 
Look
Overall
We are starting off with an alternative looking shoe but designed for the ultimate protection of the ankles. With a lot of trail events and ultramarathons being run over questionable, lose and irregular terrain often traversed in the dark. Support of the ankle and foot is of the utmost importance. You don't want to be rolling your ankle up a crag in the dark so Adidas have created this sock like designed shoe with this in mind. Boasting some great features like fully waterproof over the ankle to prevent wetting your socks. And a no lace design to tighten up or loosen on the go.
The shoe is the most comfortable I have tried until you have to run in them then they take some getting used to. I feel like they are more created for actual hiking or orienteering than trail running or ultra running as no matter how well protected the shoes are, socks must be changed and this becomes a bit of a hassle when your feet swell up after a marathon or two of running. 
overall a good shoe but fairly pricey for the performance at £219.95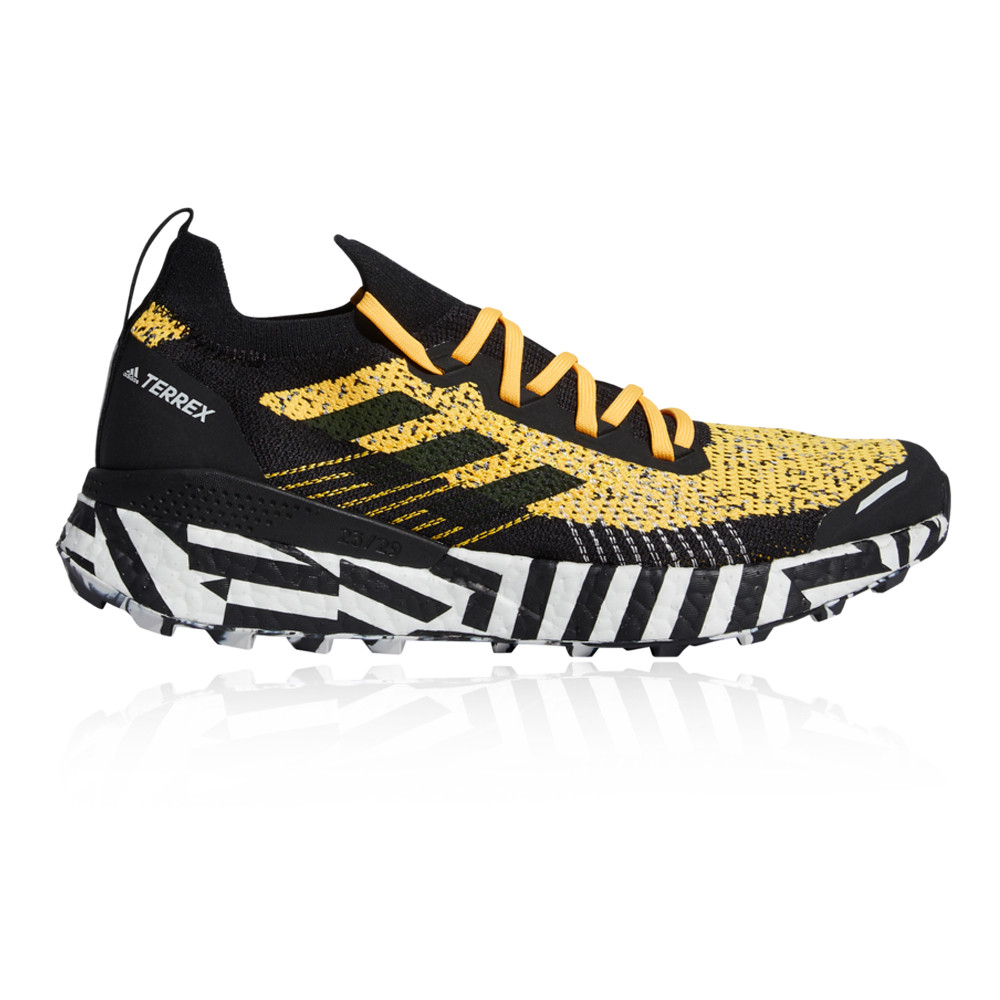 Performance
Comfort
Look
Overall 
A second Shoe from Adidas this time a more arcitple looking trail shoe and a much better looker. Being used to running in a lower ankle shoe like this trying this felt a lot more towards the norm of a standard running or race shoe. With a huge Boost technology midsole these provided a lot more bounce than the Pro trial shoes above which is why I gave these a 5 out of 5 for performance. Having only run a short distance in them it was hard to tell how they would hold up over a long distance however they really do feel like an excellent choice. And at £159.95 they are still quite expensive but i think are value for the miles you would get out of them.
Performance 
Comfort 
Look
Overall
For the Purists out Hoka have made an excellent shoe for all terrain types and at a good price point too. They are extremely light at just 292g but feel like they should be heavier with the added support form the 3D printed mesh giving you the feel of a very sturdy shoe. Very responsive. The only reason they didnt get a 5 is the style of these shoes but that is a complete preference. These are the shoe of choice for most ultra and trail runners and I think might be in my basket for my challenge at the end of October! 
Performance
Comfort
Look
Overall
Nike have made a trail shoe that looks cool! The only downside to these is the fact they are a little light for a fully supportive winter trail shoe and they wouldn't stand up to the rigors of a complete trail off piste ultra run. However disregarding all intuition and sense these are an absolute delight on the feet and even better on the eye and at just £129.95 these come it at the cheapest of the lot. Even if they aren't the best performing i think at that price they are too good to not have even if just as a training shoe. Well done Nike
Performance
Comfort
Look
Overall
Solomun have really gone and shocked me with this shoe. Looks great! Is the lightest shoe of the bunch by nearly 100g yet it feels like you are in a walking shoe they are that study. They have managed to almost create a feel of running in your socks with all the protection of a walking boot! Well done solomun now you have left me with a real decision to be made.
Conclusion
All the shoes above are a great choice for all abilities. However these are just my personal opinions of how they felt on my feet whilst running in them for a shot distance. This might not translate to running ultra distances or on trail routes. However i am happy to recommend any of these shoes for those more adventurous runners out there. 
Go out and get it this winter and stay safe!
Why not check out my podcast where i spoke to my ultra marathon friend Matthew Dyas about how he got into the sport and how he roped me into running 133.7km at the end of this month link below
Continue reading
Comments